Calling all Gold Reef City Rewards Cardholders!
 It's time for the Rich Rewards Promotion, exclusive to Tables players at Gold Reef City casino!
With a total of over R1Million in non-negotaible chips up for grabs, what are you waiting for?  Theres a Tables Game with your name on it at Gold Reef City. Play your favourite Tables game during the promotional period and you could walk away with your share of the pot in non-negotiable chips! Remember the Casino's trading hours are from 08H00 until 21H00 daily, so you have more time to play and earn your chips this September.
Quick Rich Rewards Overview.
Week

Earning Period
Every Saturday to Thursday
Redemption Period
Every Friday

1

08h00 on 04 September until 21h00 on 09 September 2021

09h00 until 21h00 on 10 September 2021

2

08h00 on 11 September until 21h00 on 16 September 2021

09h00 until 21h00 on 17 September 2021

3

08h00 on 18 September until 21h00 on 23 September 2021

09h00 until 21h00 on 24 September 2021

4

08h00 on 25 September until 21h00 on 30 September 2021

09h00 until 21h00 on 01 October 2021
If you are a Gold Reef City Rewards Cardholder and prefer Casino Tables Games, you stand a chance to win your share of over R1MILLION in non-negotiable chips during the Rich Rewards promotional period.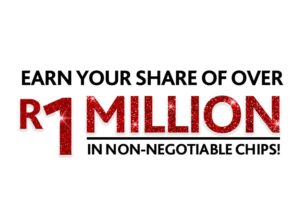 All you have to day is play your favourite Tables game from Saturday to Thursday to earn your share of Rich Rewards for your play on a Friday.
Exciting right?
How Does The Points Earning Work For Rich Rewards?
No points earning required, but you need to play a minimum of R2,000 to qualify for Rich Rewards.
How Will I Know If I Qualify For Rich Rewards?
The Gold Reef City Team will send you a weekly SMS to notify you that you qualify for Rich Rewards on the Friday, provided that you are opted in for communication with Gold Reef City.
If you are not a Gold Reef City Rewards cardholder or have questions regarding this promotion, please see our Frequently Asked Questions below.
If You Are A Winner, Remember,
You will need to be verified using positive identification like a valid SA I.D/SA driver's license or passport.
If you are not playing with your own Rewards card, you will not be eligible for any Rich Rewards.
Other Promotional Rules apply as well.
Gold Reef City Cares, So Remember.
Arrive early at Gold Reef City to collect your armband.
Slot Machines and tables are limited in terms of COVID-19 protocols so the number of guests allowed at any one time may be restricted.
Wear a mask at all times.
Practise safe social distancing.
More COVID-19 Protocols.
Play Safe!
So, get ready to be entertained at Gold Reef City Casino, it's what we do!
Frequently Asked Questions