Put the bounce back with your Graffiti creative on our JUMP CITY wall!
Gold Reef City Theme Park's Jump City has an empty wall, and it is in serious need of painting!
Are you a Graffiti artist? And do you want to win R10 000 in CASH? Then, this competition is for YOU! Submit your best Jump City Graffiti design and you could be a winner in our fun and thrilling competition!
Gold Reef City will be giving away R10 00 in CASH in our Jump City Competition.
Get your creative juices flowing! Submit your best creative and you could win! PLUS, get a chance to paint your design on our wall. The competition ends on 30 January 2023. T's & C's apply.
Enter now, for what are you waiting?
      Creative Do's & Don'ts
Follow the Jump City and Gold Reef City corporate identity
Artwork must be maxed 5MB
Jpeg/PDF only
No vulgarity
Make it your own style and creativity
Stencils can be used
Lastly, just have fun!
Size Requirements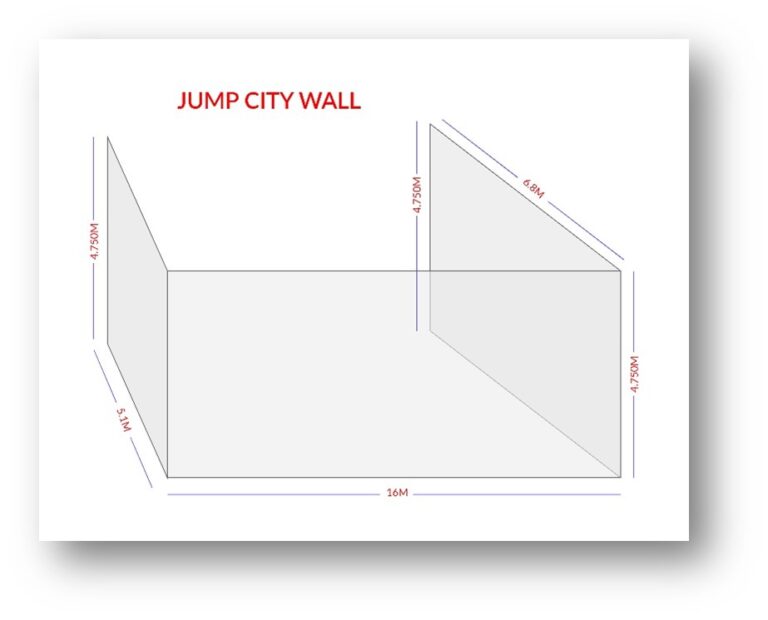 Remember, a maximum of One individual entry can be enteredper person over the promotional period.
Do not wait, head over to Facebook now to stand a chance to win!
May the best person WIN!
General Rules/Terms & Conditions
The competition is open to South African citizens only.
No persons under 18 years may enter this competition.
This competition is closed to any persons who are directors, members, partners, employees, agents, or consultants of or any other person who directly or indirectly controls or is controlled by the company or marketing service providers, or spouses, life partners, business partners or immediate family members.
Participants must follow the instructions correctly and interact on Gold Reef City's social media pages to qualify by sending their best Graffiti design.
Tsogo Sun Gaming is committed to protecting your privacy. By entering this competition, you agree to our data practices as set out in our Privacy Policy, which can be viewed at https://www.tsogosungaming.com/privacy-policy/
A maximum of 1 individual entry can be entered per person over the promotional period.
The competition closes on 30 January 2023 at
The prize winners will be selected by way of a random draw on 1 February 2023 at Gold Reef City in The winners do not need to be present and will be contacted via social media direct message on the day of the draw. A social media post on the Gold Reef City social media page will also be published on the day of the draw once consent is received from the prize winners.
Only 1 winner will be selected from the joint entries collected by a random number selector.
Every participant in the competition shall be considered to have acknowledged and accepted the rules by virtue of their participation.
All reasonable steps shall be taken to contact the prize winner via social media.
Winners are requested to acknowledge receipt of the notification within 48 hours of the notification.
The winners will have 15 days from the time of notification to collect their prize at the club desk at Gold Reef City within operational hours and must present an acceptable form of identification upon receiving his/her prize.
If the winner does not collect his/her prize within the above-mentioned 15 days – a new winner may be drawn and contacted.
The prize is not transferable and cannot be exchanged for cash.
The prize is for 1 person
The prize excludes transport to and from Gold Reef City.
In case of technical failure or damage to the device or online system used for the competition draw, irrespective of the cause, another suitable device or method will be used, at the sole discretion of Management.
All decisions are final, and binding and no correspondence or appeals will be entered.
Neither Tsogo Sun Casino Management Company (PTY) Limited, its subsidiaries and affiliated companies, their Directors, Officers, employees, or agents shall be liable for any loss, damage, injury, or death suffered by the prize winner or any of his/her invitees, because of the prize winner having taken up the prize. The prize winner hereby indemnifies and holds harmless the Tsogo Sun Casino Management Company for any such loss, damage, injury, or death.
Any person transgressing the rules of this competition will be disqualified.
The above clauses are severable from each other. Should any clause or part thereof be found to be unenforceable by operation of the law, such clause will be severed, and the remaining clauses shall remain in force.
Copies of these Terms and Conditions are available at the Customer Services Desk upon request and at the website goldreefcity.co.za.